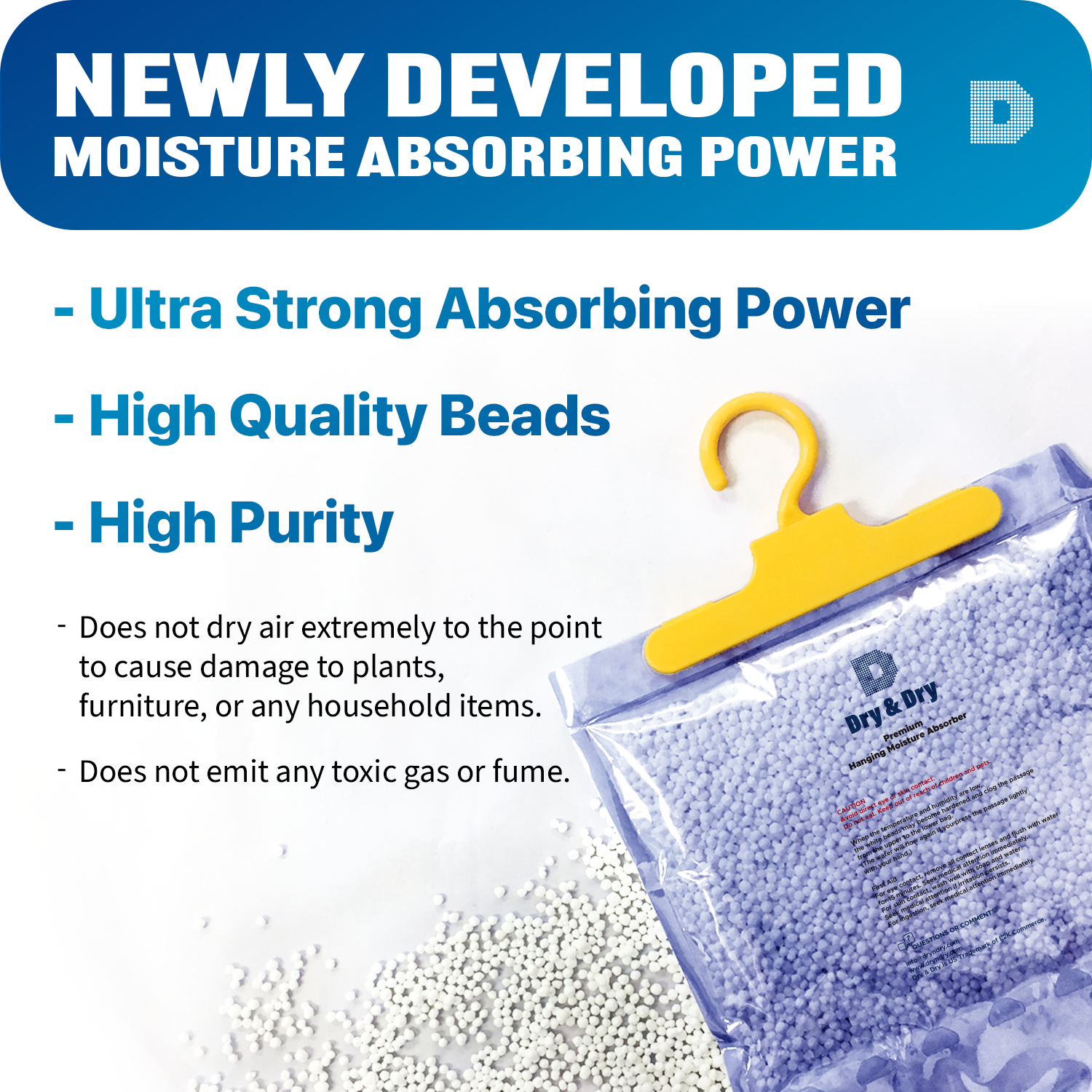 [20 pack] [Net 14.1 oz/Pack] "Dry & Dry" Premium Hanging Moisture Absorber to Control Excess Moisture for Basements, Bathrooms, Laundry Rooms, and Enclosed Spaces
---
- Designed to use in closets, basements, cabins, bathrooms, garages, laundry rooms, and other enclosed spaces.

- Freshens room air by eliminating musty odor caused by excess moisture. Protects clothes and items from excess moisture damage.

- Does not dry air extremely to the point to cause damage to plants, furniture, or any household items. Does not emit any toxic gas or fume.

- Lasts up to 60 days (Duration will vary depending on temperature and humidity) - Witness the effectiveness as absorbed moisture will collect in the lower part of the bag.

- 20 Packs [Net 14.1 oz/Pack]  - Each absorber is stored in each bag for easy use and long term storage. Active Ingredients: Calcium Chloride
Instruction 
1. Open the package right before the use. 
2. Use the hook to hang the moisture absorber and allow enough space for air circulation. 
3. White crystals will absorb moisture in the air and become water and accumulate in the lower part of the bag. 
4.When the crystals completely disappear, it's time to replace the hanging moisture absorber. 
5. Discard the whole bag in trash while holding the bag upright. 
6. Caution: Avoid direct eye or skin contact. Do not eat. Keep out of reach of children and pets. 
Note: It is common to find crystal powders in the lower bag after opening.